Greetings Travelers! Genshin Imapct's biggest patch by far is finally here, bringing with it a part of the brand new region Inazuma to explore! But what's available right off the bat?
Traverse to Inazuma!
2.0 brings us the long-awaited Inazuma, a new region with untold mysteries to uncover! This promises to be the largest influx of content since the games launch with much to explore, puzzles to solve, and primogems to collect! It introduces several new types of puzzles with various rewards that you'll have to discover yourself for now! The world is filled with new materials to collect, new monsters to defeat and Domains to earn various rewards! Talk to Kathyrine once you've reached Adventure Rank 30 and are caught up on the story to reach the new shores! Remember that you de facto get a new character just for entering Inazuma – Traveller is now equipped with the power of electro by approaching a Shrine!
The long awaited Ayaka stands tall!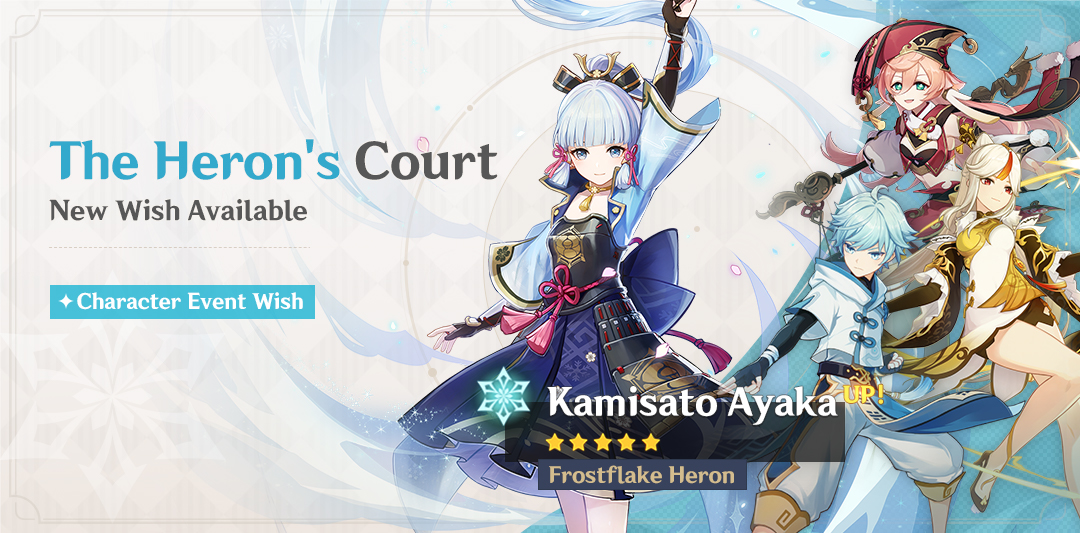 Ayaka has garned fans since well before the games release, being a favourite character of many in the beta test – and now she's finally here! Ayaka will be a strong choice going into Inazuma with her Cryo powers being well-placed to deal with the Electro we're likely to see. Beyond that, she's amazing for exploration with her ability to walk on water by turning it and herself to ice! It's also Yanfei's second appearance on a banner, so it's a good chance to get her if you msised it already.
…And A New Weapon Banner!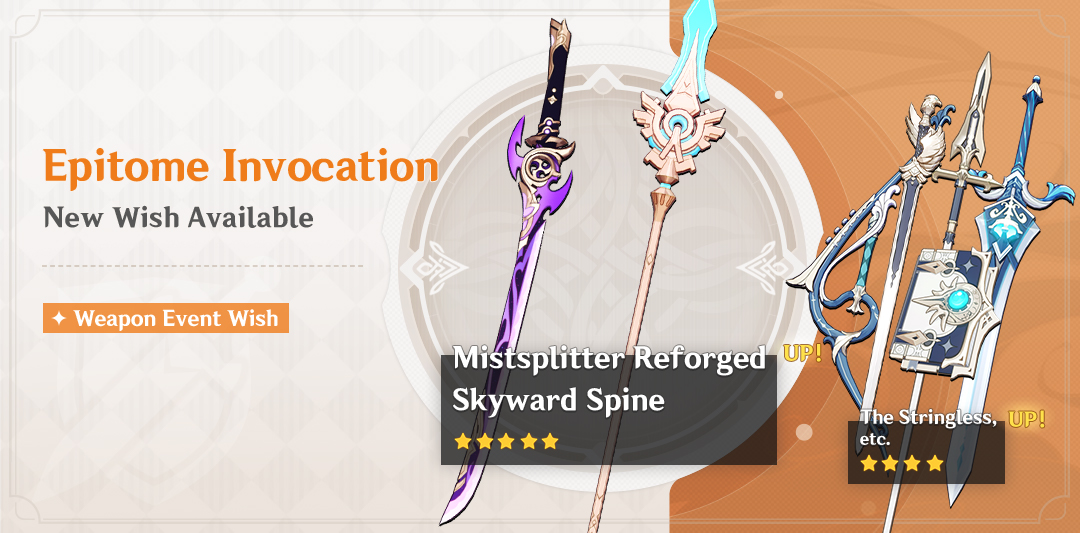 This banner, however, gives me nightmares. The new Mistsplitter Reforged looks to be an amazing weapon, especially for my main Keqing, but…Skyward Spine is arguably one of the worst 5* weapons. The weapons banner has changed to guarentee your chosen weapon after…three mercys if you enable it. This basically means anyone who hasn't saved up for several months or is spending a lot of money won't benefit from this change, and the banner is still a large risk. As good as the new weapon is, Skyward Spine means this banner should probably be avoided. It's worth noting however that stringless is still a great bow choice alongside a sacrifical claymore, so if you need these 4* weapons it may be worth at least a try.
New Weapons to Craft!
There are five new craftable weapons with Inazuma which each have different unlock requirements. Hopefully you've been saving up your Prototypes to be ready to craft these weapons, as several are clear improvements over the old craftable options for some characters!
Two New Excellent Artifact sets!
Inazuma comes with two new artifact sets, both of which promise to demand a ton of your time in farming for various characters! The verdict is still out on which characters will benefit most from these, but you'll definately need to unlock these domains and try out these artifacts. You'll need to complete the quest 'Ritou Escape Plan' for access to these. Both will come in useful for a great deal of characters!
Try Out The Banner Characters!
Not sure if Ayaka's hype is worth it? You can try her out and earn 20 Primogems for your trouble!
Multiple Teapot enhancements!
There's a few new reasons to go to your teapot in 2.0, the most important being that if you speak to Tubby you can buy waypoints, making it much easier to traverse the various levels of your teapot – and what's more, you can teleport direct to your teapot without needing to open your bag using these! In addition you can purchase and plant seeds for overworld items to save you having to hunt for them.
Mass-Convert your artifacts!
Got hundreds of artifacts lying around with stats you might use one day, or just look terrible from the get go? You can now exchange three 5-Star artifacts to get a new one from a choice of four. Given the new artifacts, Noblesse Oblige is the most useful set among these, but it'll depend on your characters. There's practically no reason to use 5-Star artifacts for experience, as pushing your artifacts into strongboxes just might give you an excellent off-piece without the resin grind!
Yoimiya+Ayaka Story Quests!
Not sure who to pull for? You'll likely be able to try out both the new characters at length in the new story quests for each character once you progress through the story, so you can try this before wishing if you want to be sure!
Linking of MiHoYo and PSN accounts!
The two playerbases can finally unite since the games launch! Check out MiHoYo's article for more information if you play on console.
More Minor Additions!
Like every patch there's lots of big changes, but there's a new little additions and quests to look forward to, such as some new gadgets, new recipes and new materials. We can also expect to see the Spiral Abyss see a refresh – finally Floor 9 will have something new! You can also go into your adventurer's journal and choose a preffered region for commissions to pop up in – I'll be choosing Inazuma when I can
More to come!
2.0 Promises to deliver more as the event unfolds – In fact a new event unlocks just a day after 2.0's launch which Promises a free Beidou, but you'll need to wait 24 hours to start to unlock it! Beyond that there will be more events to come and two new characters in three weeks. But of course the main draw is to explore every inch of Inzauma, and I'll add anything else I uncover, but for now may your pulls be successful!
Raszero


I've been playing Genshin Impact almost since launch and have been hooked playing daily since! I enjoy engrossing myself in every aspect of the game and particularly pride myself on an affliation for Keqing and the pursuit of moving around the map as fast as possible.


You can find my articles here at Traveler.gg, and check out my Youtube channel here – I post a variety of guides, amusing content, experiments and more!